Register with confidence and join other pavement maintenance professionals and find the newest products, learn from speakers at our conference sessions, and make new connections while knowing your investment is protected.
Reasons to Register with Confidence
All attendee registration fees for expo and conference passes are fully refundable if cancelled by December 20th.
Book your hotel room through our trusted partner, Eventsphere, with no deposit due. Reservations can be cancelled up to 14 days before your arrival date without penalties.
Over 200 exhibiting brands will be showing their newest products and services!
Attend our educational sessions and workshops that keep you and your business competitive and inspired.
Your Safety is our Top Priority
With the ongoing coverage surrounding the coronavirus (COVID-19) outbreak and it's potential effects, it is National Pavement Expo's and Emerald's top priority to keep our community safe and informed. The NPE team is monitoring the situation daily and following the guidelines set-forth by our federal and local government and health agencies, and are in close communication with local Nashville authorities. In addition, we are implementing control measure and best practices recommended by the CDC and local health officials around the show and on-site, as well as working with other Emerald show teams for best practices. Our focus is to keep attendees, exhibitors and the pavement maintenance industry updated regularly.
Music City Center has announced its commitment to achieve Global Biorisk Advisory Council® (GBAC) STAR™ accreditation, the gold standard for prepared facilities. Under the guidance of GBAC, a Division of ISSA, the worldwide cleaning industry association, Music City Center will implement the most stringent protocols for cleaning, disinfection and infectious disease prevention in its facility. Learn more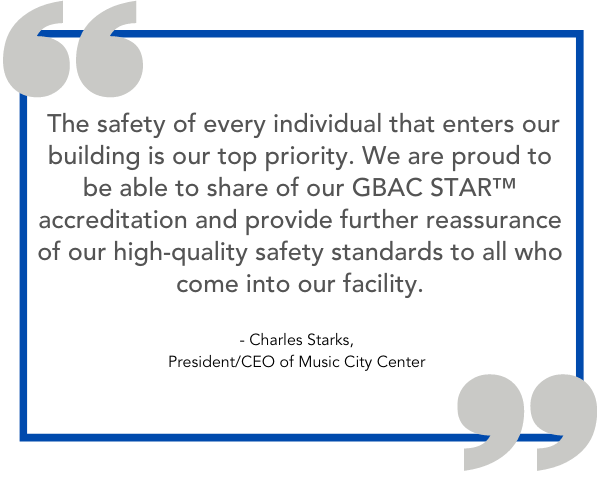 Emerald Preparedness, Prevention, & Response Plan
Throughout the COVID-19 pandemic, our focus at Emerald has been on the health and safety of our customers, our staff and our communities. In preparing for reopening our events, we have developed a preparedness, prevention and response plan designed to welcome you back. This plan is a comprehensive, multi-layered approach that is fluid and will continue to evolve based on guidance issued by the World Health Organization (WHO), the Centers for Disease Control and Prevention (CDC), and federal, state, and local governments. Emerald's preparedness, prevention and response plan is our commitment to providing assurance and confidence that our events have your health and safety as our number one priority. Learn more
Please note: At this stage in our pre-show planning, masks will be required at National Pavement Expo and Conference 2021.
Register now for the opportunity to connect with thousands of attendees and vendors