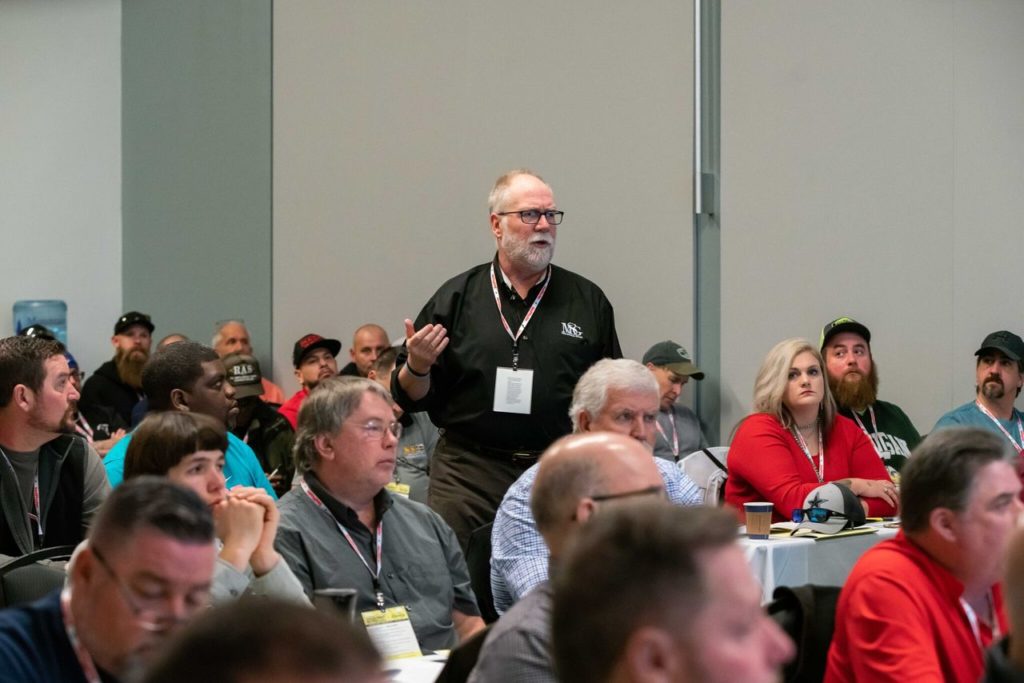 Speaker Topics at NPE 2023
Click on a topic to view the topic descriptions and objectives
Management
LINES OF CREDIT- HOW TO USE

When is the best time to get a line of credit
Building company credit
Seek banks when your company doesn't need money
Using your Line of Credit to offset customers with 60-90 day payments
SUBCONTRACTING

Building a strong relationship with top vendors
How to use subs and to keep them to a high standard
How to add profit and maximize profitability when subbing
Making sure Subcontractor has proper insurance
JOB COSTING AND ESTIMATING SOFTWARES

Understanding true costs of Equipment and ownership costs to capture burdens
Understanding Labor costs, Salaries and capturing hourly rates fully burdened
Software that simplifies the job costing process
Foreman job costing and capturing every item for true job cost
IPAD PRO IN THE FIELD

Purchasing the right IPAD
Pen and protective cases
Training the Field Managers to properly use
Communication from field to office
Job Costing
All job info in IPAD Files – No More Paper
Pictures, Change Orders, Estimating, Maps ETC.
UTILIZING TECHNOLOGY FOR TODAYS CONTRACTOR

Setting your office up with the proper computers (Mac or PC)
Cell Phones
IPADS, Surface Pros, Laptops to be able to work in or out of office
GPS units for trucks
Zoom meetings, Microsoft Teams, Facetime
How combining the technology will eliminate double work and create efficiency
Paving
MILLING BASICS – WHEN TO BUY A MILL

High Flow Skid Steer with Mill Head (24" 40")
Trimmers- Cutting edges, use for trenching
Purchasing your 1st mill.
Understanding the true cost of ownership
Using Subcontractor
Moving Machine- Buying a lowboy trailer
High Maintenance
Proper equipment used with milling
Sweepers- Best sweepers- Pick Up, Truck Sweepers, Vacuum
Best method of maintaining pickup sweeper damage
ADVANCED MILLING – MULTIPLE MACHINES AND HIGH PRODUCTION TECHNIQUES

Maximizing milling in parking lots
Corners- best way to profile corners to eliminate broken asphalt
Milling around utility structures
Maintenance and best teeth options
Leasing vs buying
Understanding ownership costs
Building an A team – Proper Equipment and team
Sweepers- Best sweepers- Pick Up, Truck Sweepers, Vacuum
Best method of maintaining pickup sweeper damage
RESIDENTIAL PAVING DRIVEWAYS AND SMALL LOTS – BUILDING DRIVEWAYS

Purchasing the right equipment to be productive
Removing driveways- Excavator, Skid Steer, Milling- Best and Fastest method
High Costs of disposal of broken asphalt
Decorative edges- Creating designer driveways
Best Specifications for driveways
Best Compaction Method
COMMERCIAL PAVING- PARKING LOTS, ROADS

Overlays vs Milling
Once milled and cleaned- Reconstructing failed areas
Best Specifications
Clay subbase vs sand – Specifications
Proper Equipment Selection- Milling Machines, Paver Size, Roller Size
Importance of compaction
Leadership
HOW TO BUILD A STRONG TEAM

Building Project Managers and Foreman's
Accountability- Understanding the power
Middle Management drives the profitability
Understanding how to elevate your crews
Learning how to have crucial conversation
Creating respect from your peers
Office
GROWING PAINS-HIRING A STRONG OFFICE STAFF (Small Company) ▪ Delegating and empowering job duties

Hiring the right people
Bookkeeper or Financial Controller
Outsourcing Bookkeeping
HR, Payroll, Project Coordinators to create job packets

CHANGES TO HR LAWS

Overtime
On-duty meal breaks
Prevailing wage
BYOD traps
Diversity & gender
UNDERSTANDING PAYROLL, HUMAN RESOURCES, OUTSOURCING PAYROLL, WORKMANS COMP AND INSURANCE (Large Company)

Payroll Services- Timeclocks best way to capture employee hours
Human Resources- Keeping employee info and best way to store the info.
Workman's Comp and Insurance
GETTING THE MOST OUT OF YOUR TEAM – UNDERSTANDING THE POWER OF FEELINGS

Personality Profiles- DISC TESTS
Learning how to understand personality profiles to best communicate with team members
How to build your teams by personalities to create "A" Teams
How to use this tool for hiring and putting people in the right positions
Cracksealing
CRACKFILLING AND MASTICS

Purchasing the right equipment
Push Kettles, Crackfill machines and trucks to pull material
Cleaning cracks
How to handle settlement
Routing vs blow and fill
Using sand, spray to prevent tracking
Crackfiller that sticks to tires in hot weather – complaints
Mastics to fill wide cracks
When is it too late to crack fill
CRACK SEAL 101

Crack seal safety
Crack preparation
Why do we crack seal?
Difference between crack sealing to filling
How clean is clean when preparing cracks
Material A-Z
Hot pour vs. Cold pour
Direct fire vs. Oil jacket kettles
Hand carts, pour pots and squeezes. Advantages and disadvantages of each.
Sealcoating
SEALCOATING FOR BEGINNERS – LEARNING THE BUSINESS

Purchasing the right equipment
Equipping your trucks to win
What size tank to buy?
Truck pulling Trailer vs Truck Mounted
Coal Tar vs Asphalt Emulsion
Applying by hand brush, squeegee, spray wand or spraybar
Using additives and sand
Coal tar shortage and price increases
When is it too late to seal
SEALCOATING PRO TIPS

Purchasing the right equipment
Yard Tanks – 8,000 – 10,000 with meters
Ride on applicators
Double Coat vs Overlap
Creating Sealcoat Plans for your customers
Proper timetable for sealcoating – Not over sealing
Coal Tar, Asphalt Emulsion, Rejuvenators
Discuss Tire scuffing
Price Increases and Shortages- How to handle the supply shortages
How to handle white spots that come through the sealer
Pricing Strategies
Pavement Marking (Striping)
LINESTRIPING FOR BEGINNERS

Purchasing equipment – Ride On or Push Unit
Understanding Layouts
Stencils
Paint Types
Equipping truck to win

LINESTRIPING ADVANCED

Using Lasers
Layout Techniques – How to use the auto layout
Striping on radius – layout tips
Thermoplastic – Units for beginners
Thermoplastic – Truck Units
ADA Layout
ADA COMPLIANCE

Understanding the ADA laws
Using a 2-foot smart level – 2%
Concrete ramps
Truncated Domes
Proper Signage
Sweeping
USING STORMWATER AND AIR POLLUTION DATA TO SELL SWEEPING SERVICES
University and private studies are clear on the environmental benefits of sweeping
Use this data to create credibility and need, in your sales pitch
Help in getting local entities to not ignore national regulations that require sweeping
JOB COSTING FOR SWEEPING SERVICES
What your numbers should be telling you
How to develop your own primary KPI's or KSI's
How to use non-numerical data as a KPI (i.e. Customer Satisfaction)
When are you measuring too much
NEXT GENERATION SWEEPERS – ELECTRIC, AUTONOMOUS
Discussion includes infrastructure needed, mechanic training, financing with grants
An over the horizon look at what is coming AND what is already here
Timelines in some states for mandatory adoption (Electric)
The changing legal framework for autonomous fleets
USING THE ANSI POWER SWEEPING STANDARD TO PROTECT YOUR BUSINESS AND HOW TO USE IT AS A SALES TOOL.

How best to reference it in your contracts to maximize protection
What to share with your defense team when involved with trip & fall litigation
How to make sure it is not used against you

GETTING BUY-IN FOR DASHCAMS AND IN-CAB CAMERAS
Privacy issues
Eliminating Distracted Driving: How Technology and Coaching Can Improve Fleet Operations
Sample employment policies and forms.
Machine learning and artificial intelligence are making fleets safer.  How it is introduced can make a big difference.
Sales and Marketing
DIGITAL MARKETING

Using the proper platforms ( Linkedin, Facebook,Instgram, Twitter etc.)
Website design – Creating a clean impactful site that is easy to use
SEO
Using Drones in the field to create strong Before and After
Keeping your company relevant
Highlighting your services with great videos and client testimonials
SELLING TO COMMERCIAL CUSTOMERS

Understanding Customer needs
Discussing budgets and expectations
Creating maps and clarity of areas in need of repair
With retail and commercial building not 100% occupied – finances are low
How to create a multi-year plan to get site in top standing
CUSTOMER COMMUNICATION: AFTER JOB IS WON- BEST WAY TO COMMUNICATE

When Qualifying customers finding the best way to communicate
Setting Schedule and keeping customer updated
What happens if rain or production pushes project
Unhappy customers if project moves and customer can't be onsite
When crews arrive on site – Communication method- (Text, Phone, Email etc.)
How to handle customers that do not want to meet onsite
How to wow your customer