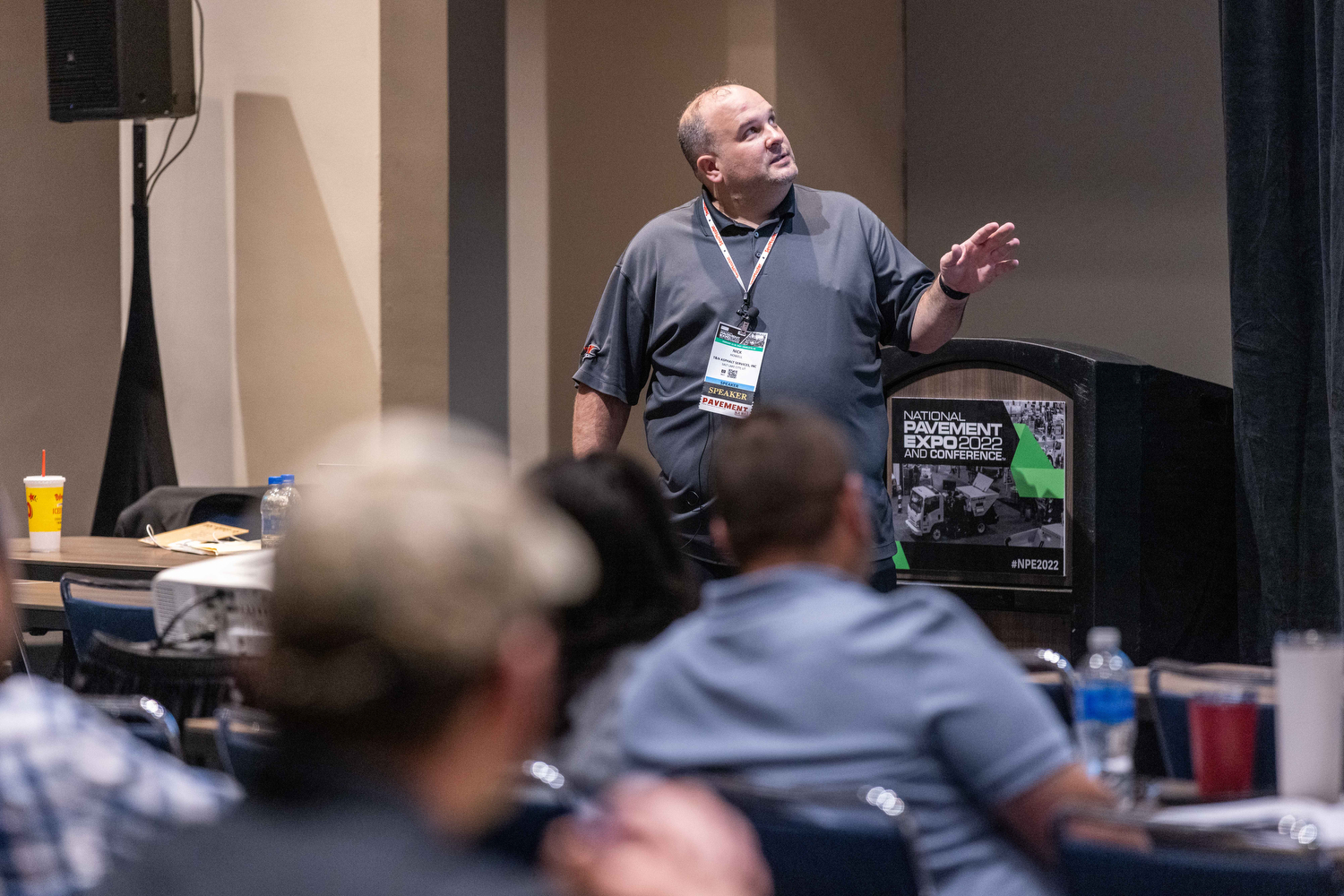 Become a Speaker at NPE 2023
National Pavement Expo and Conference is committed to offering enlightening and vital conference sessions led by industry professionals who speak about the most up-to-date topics in the paving industry.
NPE, in collaboration with the Educational Advisory Board (EAB), is announcing a call for speakers for the 2023 National Pavement Expo and Conference being held January 25 – 27, 2023 in Charlotte, NC.
NOTE: This Call for Speakers format differs from previous year. 
This new format has been developed to better address the hottest topics within the NPE industry and the needs of NPE attendees. The NPE EAB developed the following suggested categories for this Call for Speakers.
Management
Paving
Cracksealing
Sealcoating
Leadership
Pavement Markting (Striping)
Sweeping
Sales and Marketing
Office
Within each category are specific selected topics. These topics have overarching objectives that are to be used as both a guide and direction for the presentation.
Submission Guidelines – please review thoroughly before beginning your submission
We are looking for speakers to present on the specific topics listed within each category. Please use the objectives as a guide to create your session title, description and presentation. While there is some flexibility in the specific content for the program, the members of the EAB would like your content to adhere to the topics and overarching objectives outlined.
If there are additional topics that you believe should be considered, we encourage you to please submit your idea with a description and learning objectives for consideration.
Submit your request to speak on time. Submissions will not be accepted after July 11.
Use spell check to correct spelling and grammatical errors. DO NOT submit your proposal in all CAPS. Suggestion: create proposal in Word, spell check, then cut and paste into the proposal form.
Plan your session content accordingly and keep in mind sessions are either 1.5 hours or 3 hours in length and should not be an infomercial. Use the title provided or adjust the title, still capturing the overall theme. The description provided should be used as a guide for the development of your program and be a minimum of 3-4 sentences. Please be specific to the needs of the NPE and paving industry.
Before submitting your session please keep the following in mind:

NPE does not allow promotion of product and services. Please refrain from including any information related to your business in the presentation.
It is extremely important to come prepared to your session. A complete PowerPoint presentation with slides that support the topic being discussed is key for audience participation and understanding.
Contests and promotions in exchange for product and services are not allowed. This includes, but not limited to: text, cell, phone, Facebook (or other social platforms or email) before, after or during your presentation.
By submitting this form, you agree to conduct your presentation in a structured, informative manner.

For every slide in your presentation, please use the NPE PowerPoint template sent to accepted presenters.
Review topics and descriptions here >>
Understand the new process? Great—go ahead and get started!
Have questions? Contact Kennedy Oglesby, Conference Manager

Past sessions have included education on business management, repair options, and profitable sales principles offering opportunities to help you improve your business.
Workshops are three hours in duration; seminars are 90 minutes. All sessions provide a handout or other materials. Attendees will receive a certificate of attendance sent after the event.